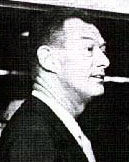 Let's just lay it on the table: Sylvester L. "Pat" Weaver Jr. was the most creative genius in the history of radio and television. (And, yes, he DOES have a daughter named Sigourney, whom you may have seen and enjoyed in a few movies — but that's a story for another website.)
Pat Weaver was born in Los Angeles in 1908. He graduated from Dartmouth College, went to work for Don Lee's regional radio network on the West Coast and wound up at a San Francisco radio station. After that, he went to work for the mighty Young and Rubicam ad agency where, among other things, he produced the legendary Fred Allen's "Town Hall Tonight" network radio show.
At the tender age of 30, Weaver became advertising manager of George Washington Hill's American Tobacco Company. In 1949 Weaver went to work for NBC as head of TV programming and soon after became President of the network.
He Revolutionized Broadcasting
To say that Weaver revolutionized TV and radio would be a vast understatement. But a list of some of his creations should prove the point. In the span of a few short years in the 1950's, Weaver created, among other things, the "Today Show," "The Tonight Show," "Home," "Wide, Wide World" and the whole concept of "spectaculars." At the same time, he wrestled control of programming away from sponsors and created the idea of "magazine style" advertising — instead of one advertiser owning and controlling the entire broadcast, a series of "participating" advertisers would appear within the body of each program.
In 1955, Newsweek described Weaver this way: "In the feverish world of broadcasting, the dreams of NBC president Sylvester (Pat) Weaver are generally conceded to be the biggest and the best around." And by that time, Weaver had to be on top of his game, because he faced an enormous problem with his NBC Radio Network.
By the mid-50's TV had just about destroyed the audience for net radio. As soon as TV stations went on the air in city after city, network radio audiences disappeared. NBC, and the other networks, started showing plenty of red ink.
Weaver realized that, if a national audio service was to be maintained, a new kind of programming had to be invented — the traditional pattern of 15-minute, half-hour or hour comedies, dramas, quiz shows and Westerns wasn't going to cut it anymore.
Where the "Monitor" Idea Came From
In a personal interview with this author, Weaver said he had assembled a project group at NBC for the expressed purpose of developing a plan to revitalize his radio network. One of the ideas was to do on a network level what was then being done at NBC's flagship WRCA Radio in New York — a Saturday morning program called "Pulse," in which anchor John Wingate tossed to a variety of contributing reporters (including Lindsey Nelson on sports and Gabe Pressman on other topics) in an ongoing live look at what was happening in New York that day or that weekend.
"The 'Monitor' concept came from my conviction that if television had been invented first, by the nature of the need for people to be where they could watch the set pretty much to enjoy…that the medium of sound, radio only, audio only, would still have been developed as a national service," Weaver said in a personal interview.
Weaver decided to roll the dice: He would toss out almost everything that NBC had going for it on weekends and replace it with "Monitor," an incredibly risky move that could have led to NBC Radio's demise if it hadn't worked.
But it worked, all right. Oh, did it work.
Weaver Reveals Plan to Affiliates
On April 1, 1955, Weaver went on closed-circuit to NBC's radio affiliates to reveal his plans for "Monitor." He called it "a service tailored for you that will be highly interesting and amusing when you want it," and continued: "Essentially, we can once again have the whole American public know that any time in the weekend they need not be alone and they don't have to sit there watching the television set — they can turn this service on and in will come the flow."
Weaver told the affiliates that "Monitor" would have "more people on it and more important people saying things of high interest and repeatable values than probably anything that has ever been attempted." He described it as a round-the-clock service (to air from 8 a.m. Saturday morning to midnight Sunday) that would go practically anywhere and do practically anything, a program that would break away from the traditional programming patterns of radio networks.
"This is a rewrite of the (radio) medium as though it had never been before to do the greatest job and to be harnessed in the right way to do the greatest product-selling job for our advertisers," Weaver said. He added that he hoped "Monitor" would gain a 50 percent "cumulative" audience over the course of its ambitious 40-consecutive hour broadcast — and outlined a sales plan of "magazine style" advertising participations that included commercials of six-seconds, 30-seconds and one-minute length.
A Building, Big Names
and the Beacon
To get "Monitor" on the air, Weaver demolished NBC Radio's old studios on the 5th floor of the RCA Building in New York and created "Radio Central," a $150,000 project that included several glass-enclosed studios that Weaver called "a listening post of the world."
And to help create interest in the broadcast, Weaver hired big-name TV and radio stars to host "Monitor." He called them "communicators" (as he called his "Today Show" hosts) — and they were the best and the brightest NBC had, including Dave Garroway, Frank Blair, Hugh Downs, Frank Gallop, Henry Morgan, Walter Kiernan and John Cameron Swayze.
And there was The Beacon — the unforgettable "Monitor" Beacon. Weaver loved the sound — but RCA (NBC's owner) board chairman David Sarnoff hated it. "He didn't know anything," Weaver said in a personal interview. "He thought it would irritate people because it irritated him. I said, 'General, we don't care about, really, about what you think because, you know, we're really doing it for the population. I don't expect you to listen to the show.'"
A Debut to Remember
"Monitor's" opening broadcast was set for Sunday afternoon, June 12, 1955, from 4 p.m. to midnight Eastern Time. And in Weaver's typically flamboyant style, he had NBC-TV simulcast the first hour.
And what was in that first show? Almost everything, including a pick-up of a Los Angeles swing band, a visit to San Quentin Prison in California, a visit from double-talk artist Al Kelly, political commentary by Roscoe Drummond, a talk by Harvard University president Nathan Pusey, the sound made by an oyster, a visit to the Bucks County, Pennsylvania, summer theater, a scene from a new Jerry Lewis movie and a live pick-up from a trans-Atlantic plane leaving New York's Idlewild Airport.
And that was in the first hour alone.
As "Monitor" continued through that memorable first evening, listeners heard more music, a book review, a live remote from Berlin, a pick-up of a ceremony in Scotland, interviews with Mary Martin, Helen Hayes and Marilyn Monroe, more remote pick-ups from San Quentin and from that plane crossing the Atlantic, and comedy routines from Bob and Ray (who would continue to show up at Radio Central every weekend for years and provide comedy "fill" when remotes fell apart or when the program needed a pick-me-up). For their efforts on "Monitor," they would win a Peabody Award.
Oh, yes — there was also this young lady whom New York Times reviewer Jack Gould described the next day as someone who "made the (weather) report sound like an irresistible invitation to an unforgettable evening." She became known as "Miss Monitor" — her real name was actress Tedi Thurman — and for the next few years, she was, simply, the sexiest part of "Monitor" that ever was.
"Folly" Becomes a Hit
Was "Monitor" a hit? Oh, yes. Critics loved it. After the premiere, Gould said that "at long last, network radio is going to receive a shot in the arm." Newsweek said the debut had "enough interesting, exasperating and mysterious aural sensations to bear out producer Jim Fleming's boast that 'Monitor" would bring its audience 'everything important, entertaining or interesting that is happening anywhere.'"
Time magazine called "Monitor" a "natural rover built for speed."
A few naysayers called it "Weaver's Folly." That "folly" would save NBC's radio network from extinction.
Advertisers flocked to "Monitor" — it had $1,400,000 in advance billings and kept going from there — up and up and up until, in 1959, Newsweek estimated its annual advertising take at $6 million and called it "the biggest thing in radio."
And, yes, the audience came. NBC's affiliates reported big gains in weekend listening and advertising buys. How many people were tuning in? By the mid-60's NBC estimated more than 30 million people were listening to "Monitor" each weekend in a country of about 180 million.
It was radio's biggest moneymaker for years — it became radio's most imitated format (check out Broadcasting magazine in the years after "Monitor's" debut and see how many local stations, even non-NBC affils, copied it) — and it was clearly the most talked-about and most important effort in the latter days of net radio. Many called "Monitor" the forerunner of talk radio.
Weaver's "Reward"
And Pat Weaver? For his brilliant work, he was pushed out of NBC's presidency by David Sarnoff so that the general could install his son Robert in that position. Weaver became chairman of NBC's board and resigned on Sept. 7, 1956, in a dispute with David Sarnoff over the fate of several of Weaver's people in the company. He was only 48 years old.
Over the next 40 years, he would be involved in a variety of media projects, including an effort to establish a part-time TV network, a pay-TV project in California and Jerry Lewis' muscular dystrophy telethons.
Mr. Weaver passed away on March 15, 2002.
For more information on this creative genius, get a copy of his autobiography, "The Best Seat in the House," published in 1994.