Big Wilson
In January 1974, "Big" Wilson was one of four Monitor hosts — the others being Tony Taylor, Bruce Bradley and John Bartholomew Tucker. By April, Taylor and Bradley were gone, and Wilson and Tucker became Monitor's final two hosts, each handling a three-hour segment on both Saturdays and Sundays.
You will note that in NBC's press release about "Biggie," his work at NBC's flagship radio station, WNBC in New York, is curiously omitted. Big was morning man at the station from 1962-68, and mid-day host from 1968 to 1974. He was fired from WNBC in March '74 — shortly before the ratings came out and showed he was No. 1 in his time slot.
Big continued on Monitor until the program's end in January 1975. He handled the Saturday and Sunday noon to 3 p.m. EST shifts. (This press release indicates a different time slot for Big — it was written before the final changes in the program hosts' schedules were made.)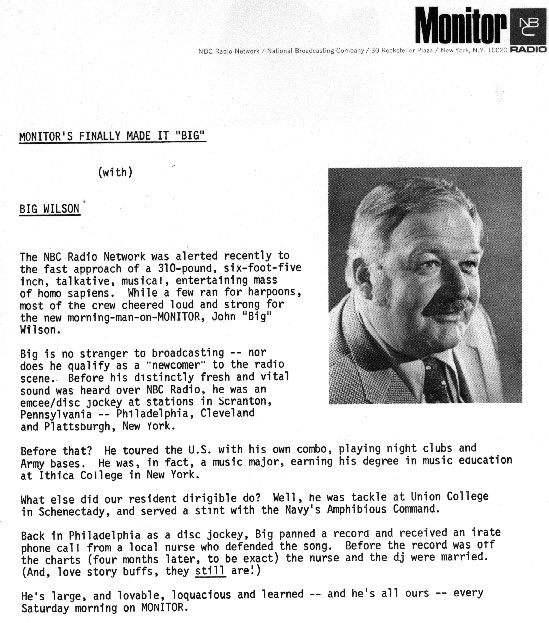 John Bartholomew Tucker
By January 1975, John Bartholomew Tucker and Big Wilson were Monitor's only hosts. Tucker handled the Saturday 9 a.m. to noon slot and the Sunday 3 to 6 p.m. shift. Thus, he became the last live host of the program when it ended at 5:58:50 p.m. on Sunday, January 26, 1975.